Add products by adding codes
Enter the product codes that you want to add to the basket in bulk (after a comma, with a space or from a new line). Repeating the code many times will add this item as many times as it appears.
Shaker Contigo z pojemnikiem Shake and Go Fit 650ml - Black
Shaker z pojemnikiem na odżywki oraz praktycznym pillboxem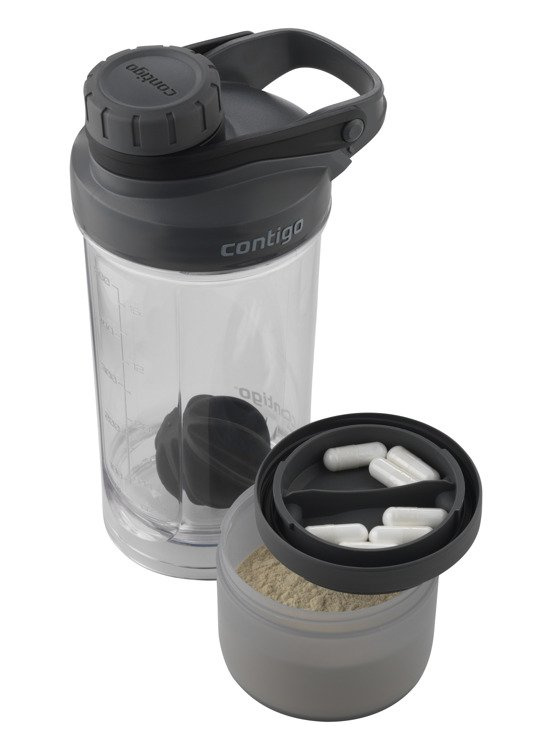 Shaker Contigo z pojemnikiem Shake and Go Fit 650ml
Nowa wersja niezwykle udanego shakera Contigo zawiera dodatkowe nakręcane pojemniki do przechowywania suplementów np. porcji odżywki białkowej, węglowodanowej lub kreatyny w proszku. Dodatkowo w zestawie jest pojemniczek z przegródką do przechowywania tabletek. Shake&Go Fit jest wykonany z odpornego na uderzenia tritanu.
Przezroczysty shaker z dokładną miarką do odmierzania składników
Zawiera nakręcany pojemnik na porcję odżywki w proszku
Shaker posiada również mniejszą komorę na tabletki
Specjalna kulka o opatentowanym kształcie do mieszania każdego rodzaju odżywek
Solidne zamknięcie gwarantujące szczelność
Duży, praktyczny otwór
Nie przenosi i nie utrzymuje zapachów płynów
Wykonany z materiału wolnego od BPA
Nakrętkę, kulkę oraz korpus można myć w zmywarce
Wygodny uchwyt do przenoszenia
Kupując Contigo za każdym razem dostajesz wyjątkowy produkt, dopracowany w najdrobniejszych szczegółach
Specyfikacja:
Wysokość: 26 cm
Średnica: Ø 9 cm
Pojemność: 650 ml

Ważna jest higiena - kubki łatwo jest umyć
Taki cel przyświecał projektantom od początku. Żadnych zakamarków, żadnych zamkniętych przestrzeni, żadnych luźnych części, które można zgubić... Po prostu odkręcasz nakrętkę i myjesz pod bieżącą wodą lub wkładasz do zmywarki.

Wykonane z TritanuTM
TritanTM to nowoczesne, specjalistyczne tworzywo z którego wykonuje się najmocniejsze butelki na wodę. Produkty wykonane z tritanu są lekkie, a przy tym odporne na uderzenia i wytrzymałe.
Materiał nie wchodzi w reakcję ze związkami organicznymi, a butelka może być cały czas wystawiona na słońce (w pełni odporna na UV i warunki atmosferyczne). Nie wchłania zapachów i nie rozwijają się w niej drobnoustrouje. Co najważniejsze nie wydziela szkodliwego bisfenolu A (BPA free).

Shake and Go FIT Compartment
Convenient one-handed operation